IGP Coteaux de l'Ain
The Ain river which runs North to South the eponymous department also gave its name to the Protected Geographical Indication "Coteaux de l'Ain". The geographic area that constitutes its territory is located on the upper section of the Rhône-Alpes region, bordered to the North by the Jura mountains and to the East by the Rhône River and the Alps. Another river, the Saone, defines its western part.
The territory of the IGP has a variety of reliefs which take the form of a succession of hills and valleys cut by coombs in the shape of mountain plateaux. The Bresse plain (Bresse, Ain plain, Val de Saône) is built on the foothills of Revermont. On the Northeast the Gex region belongs to the Lake Geneva basin, separated from the rest of the Ain department by a deep wtaer gap cut by the Rhone.
The floors are mainly limestone and marl with molasses (marine deposits derived from erosion of the Alps), glacial moraines or old alluvium. The hillsides are distributed on limestone scree or clay-limestone terrain.

The area is dominated by an oceanic climate, with abundant and regular rainfall.
The vineyard remains under southern and continental influences: If the winters are long and sometimes harsh, the area is also experiencing hot and dry summers.
In this context, direction and altitude are of crucial importance to provide favorable vineyard sites with perfect ripeness of the grapes.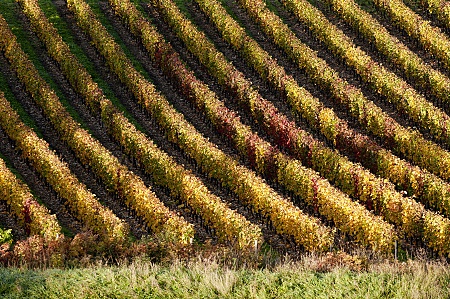 IGP Coteaux de l'Ain