IGP Isère
Located in the southeast quarter of France (Rhone-Alpes region) and borders to Italy, the geographical area of ​​the IGP Isère has two main areas:

- The hills of Grésivaudan take their name from the eponymous valley. The vineyard has grown on the slopes of the foothills of Chartreuse, Belledonne and Vercors. They have soil suitable for vineyard with a main southeast enjoying a sunny exposure, which in summer, provides some of the warmest days in France (Grenoble) and fresh nights that come down from the mountains. The soils encountered are mostly made of ice moraine terraces and very filtered clay-limestone scree.

- The Balmes Dauphiné, northeast of Bourgoin-Jallieu, between Crémieu and La Tour-du-Pin, whose relief has a series of parallel valleys oriented from East to West, offering south-facing slopes and enjoying a hot microclimate. The soil of moraine origin, are clay-limestone siliceous, sandy loam or gravelly pebbles. Moreover, the low hills of Dauphiné (late Tertiary) are composed of molasse (sandstone in formation), gravel or poudingues. Between these hills, there are limestone plateaux from the secondary Jurassic era such as the plateau of Isle de Crémieu.
Isère has a continental climate with Mediterranean influence, contrasting from one season to another (but also sometimes from one day to the other) by strong temperature fluctuations. The starting cycle of vine growth is late but is largely compensated by the summer heat. The area is quite windy. The "bise" (north wind) and the "south wind" are the prevailing winds in the region. Annual rainfall is around 900 mm and the number of hours of sunshine is 2050 hours per year.

These conditions, sometimes extreme, led winemakers to implant the vineyards on sites carefully chosen to provide all the provisions necessary for the cultivation of vines and its good maturity. The Isère vineyard presents itself as small geographic blocks where the vines find optimal growth conditions.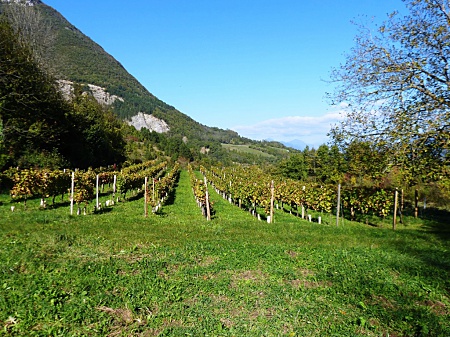 IGP Isère