IGP Isère / Grésivaudan
The Grésivaudan hillsides take their name from the eponymous valley. The vineyard has grown in this ancient glacial valley, on the slopes of the foothills of the mountains of Chartreuse, Belledonne and Vercors. They have land suitable for vineyard with a main southeast exposure, which in summer, provides some of the warmest days in France (Grenoble) and fresh nights that come down from the mountains. The soils are mostly made of ice moraine terraces and clay and limestone scree very well drained and filtering.

Specifically, the vineyards of the IGP Isère Coteaux du Grésivaudan stretch from the foothills of the Chartreuse, North of Barraux in Meylan (near Grenoble) to the south and on its southwestern foothills, from Saint-Martin- le-Vinoux to the Voironnais region. It is also on the hillsides west of Belledonne, north of the Vercors and south of Grenoble, in the Lively area.

The wide temperature range that characterizes this small area allows for the development of white wines marked by a minerality that partners with aromas of white flowers and citrus. The aromatic range of red wines may take a wide variety depending on the variety, ranging from spicy frankly an important tannic structure ensuring potential strong guard.

In recent years, the Isere vineyard has entered a new dynamic with the arrival of a young generation of winemakers. Between 2003 and 2013, 25 companies which main activity is the cultivation of vines have emerged, with an average winemakers's age of 36 years old at the company's creation. With a specific and highly qualitative work on indigenous grape varieties, a environmentally-friendly approach of aging wine when farms are not organically or biodynamically, the IGP Isère was driven by new societal trends caried by the consumers such as short circuits, environmental impact and local food in general. Although direct selling prevails over this type of farms, the great diversity of grape varieties and terroirs, combined with a new awareness, can also address niche markets that go beyond national borders.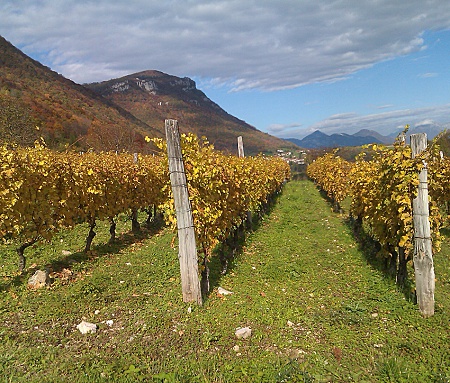 IGP Isère / Grésivaudan