IGP Isère \ History
In the 1850s, there were about 33 000 ha of vineyards in Isère, planted with many native varieties some still cultivated today. In the 1930s, four cooperatives were built with a total capacity of 12,000 Hl enabling development of the produced volumes.

Winemakers hold on to produce quality wines (from a single grape variety or assemblies) whose marketing was done in the cities of Lyon and Grenoble, and around, ensuring consumption of their products.

The main production is the white wine with 65% of volumes. Annual production is about 1300 hl, but the IGP "Isère"continues its development, facilitated in part by the influx of tourists in the nearby ski resorts.

Since half of the twentieth century, isérois winemakers have worked to improve the quality of their products based on a long wine tradition, including the use of local grape varieties, source of diversity and originality of the products. However, to take account of consumer requirements, Isère winemakers also used alone or in blends neighboring vineyards grape varieties such as Chardonnay, Gamay and Pinot to complete their offer.

In recent years, the Isere vineyard has entered a new dynamic with the arrival of a young generation of winemakers. Between 2003 and 2013, 25 companies which main activity is the cultivation of vines have emerged, with an average winemakers's age of 36 years old at the company's creation. With a specific and highly qualitative work on indigenous grape varieties, a environmentally-friendly approach of aging wine when farms are not organically or biodynamically, the IGP Isère was driven by new societal trends caried by the consumers such as short circuits, environmental impact and local food in general. Although direct selling prevails over this type of farms, the great diversity of grape varieties and terroirs, combined with a new awareness, can also address niche markets that go beyond national borders.

Because of the climate, topographic diversity and soil, the Isère winemakers produce both white and red wines. The white wines are mostly dry, fresh, with a well aromatic finesse. When weather conditions allow, the winemakers develop sweet wines with overripe grapes. The red wines are fruity but also have good aging potential.

Within the IGP "Isère, the "Balmes Dauphinoises" and "Coteaux du Grésivaudan" are distinguished by their typicality and organoleptic qualities of the wines they produce:
In the area of ​​Grésivaudan, the great thermal amplitude that characterizes this small area allows for the development of white wines marked by a minerality associated with aromas of white flowers and citrus. The aromatic range of red wines can take a wide range depending on the variety, from very spicy to an important tannic structure ensuring potential strong guard.

In Dauphinoises Balmes sector, the northern pre-alpine climate marked by the hot summer and associated with an average rainfall allow a relatively short growing season, intense and typical of the Dauphiné. This land is particularly conducive to the production of white wines. This climate originality associated with a slightly gravelly clay soil produces white wines with good maturity, a nice roundness, good volume and allowing a quick tasting. With an average aging potential, the white wines keep a good fat balance / acidity. The red wines are for the most delicate, with a particularly interesting color potential, best enjoyed in their youth while some will prove to be excellent guard wines.

The organoleptic differences found in IGP Isère wines reflect the importance of the choice of vineyard sites by winemakers to achieve the final expression desired in their products. The care taken in selecting these "terroirs" that led to making the most of a natural environment with strong climatic issues, has generated the creation of very specific products which now find their perfect expression.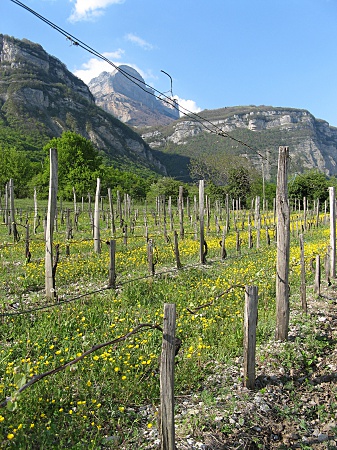 IGP Isère