IGP Vin des Allobroges \ Territory
The vineyards of the IGP 'Vin des Allobroges' covers a vast area bounded on the North and West by Lake Geneva and the Rhone, on the South by the Isere, and to the East by the Alps through departments Savoie, Haute-Savoie and the Canton of Seyssel in Ain.

The geographical area of ​​the IGP covers the last Jura mountain range in the west including molasses soil in successive ridges to more shaled adrets on the banks of the Isère River, protected from rain and cold winds by the surrounding pre-alpine massifs. To the North, it also occupies the western edge of the Bauges where the vineyards are located on limestone scree.

The soil comes from bumps in the Alpine region with sandy-gravelly quaternary alluvium, glacial moraines, screes at the base of reliefs, tertiary molasses and localized older rocks outcrops.

This climate offers oceanic trends under the influence of westerly winds that bring moisture and moderate temperature variation. It is also subject to continental and southern influences. Northern fows generate periodically dry cold, while southern streams bring sweetness.

The topography modulates locally these influences.

The situation of vineyards in West facade of the Alps is marked by strong rainfall, still higher than 1000 mm per year. This climatic humidity is reinforced by the presence of water reserves (lakes, snow and ice) at the origin of a large permanent water system.
Sunshine is about 1600 hours a year with a rear hot season. The vineyards are located mainly between 250 and 600 meters above sea level with South and southeast orientation, or West.
These elements (relief, altitude, sun exposure, vertical temperature variation), determine discontinuous local climates that are characteristic of the geographical area of the IGP 'Vin des Allobroges. "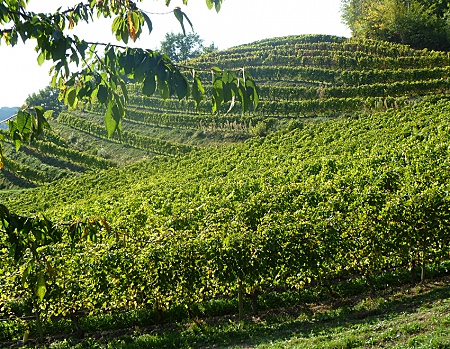 IGP Vin des Allobroges